Hey Lovelies!!!
I hope you all had an amazing weekend! Mine was so busy. My sister is in the process of moving and I helped her with cleaning and I also went to dinner.
It's a new week, so another Glam up your Monday. Something that is very important to get a good night sleep, to study, to relax,... is your environment. If your room/house is a mess you can't concentrate, you also have to surround yourself with the things you love and things that inspire you!
This week's decor idea is fresh flowers. It can immediately change the feel of your room. If I walk in a room with fresh flowers, I immediately feel so much happier, it also gives an instant glam and luxury factor to your room.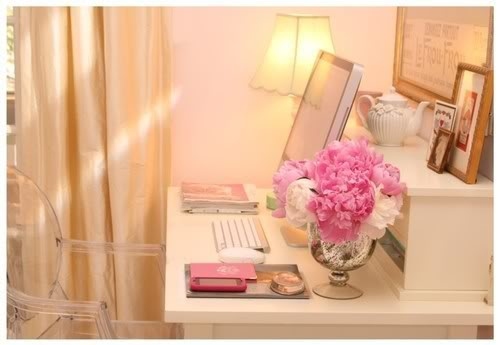 But did you know flowers have a lot of benefits for your mental, physical and emotional health? Crazy right!
1. Flowers can give a boost to your mood: Flowers are

major triggers of positive welfare emotions, it gives you a boost of happiness.
2. It has an impact on long-term moods such as a depression
3. A lot of flower extracts are used in medicines (and beauty products! Did you know rose is great for sensitive skin!)
source:
http://www.flowerdelivery.co.uk/blog/the-benefits-of-fresh-flowers-to-mental-emotional-and-physical-health.html
I don't know about you but I love having fresh flowers, especially roses or peonies. So go and get yourself your favorite flowers in you favorite color and put it somewhere in your house/room where you see it all the time. I love putting mine next to my bed (gives you an amazing boost when you wake up), on the dining table and in the living room.
My favorite flowers are rose and peonies (white, pink, soft pink) but I'm loving those typical spring flowers right now like tulips, lilies, crocuses, camellias, daffodils,...
If you are creative you can also make your own flower arrangement, which looks even more luxurious and chique! Check it out how to do that here:
http://www.doseofdivine.com/home-decor/flower-arranging-tutorial-low-arrangement/
What is your favorite flower or flowers?
Have a nice week!
xoxo Blair